This series of three art quilts explores issues of water pollution and erosion. Access to clean water is expected to become one of the critical issues of this century, even more important than access to energy resources.
Angelica Watershed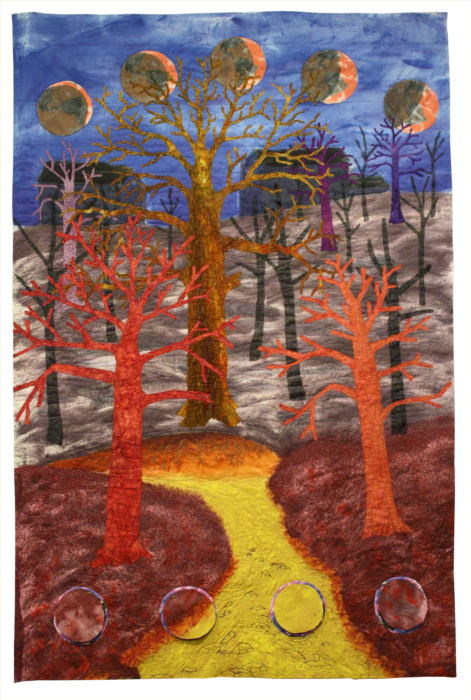 46 x 30" Painted cotton, gold plate wire, black organza Satellite imagery printed on cotton (courtesy Space Science and Engineering Center, University of Wisconsin) Machine quilted
Nearly every day I walk through our neighborhood's greenway, witnessing the erosion along the banks of Angelica Run. An ancient oak will one day soon topple over, as the soil beneath it has been scoured away. Hurricanes (such as Hurricane Bill, pictured in five successive satellite images) are a natural part of our mid-Atlantic environment, but can bring too much water or too little when that natural cycle is disrupted.
Details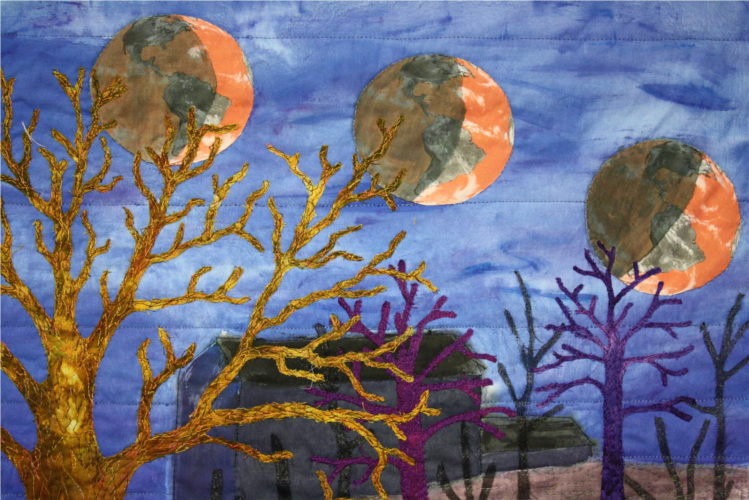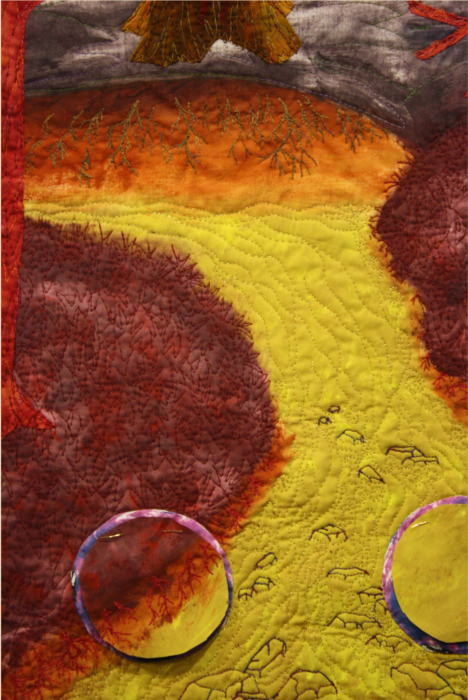 ---
Rhapsody Watershed
45 x 30" (plus 3 more inches for hanging tabs, not shown) Painted cotton, black netting (mostly transparent), hand-stitched gold thread Machine quilted
"Rhapsody Watershed" depicts the waste of rainwater in my suburban neighborhood, due to impermeable surfaces.
Details
---
Chesapeake Bay Watershed
27 x 38" Painted cotton fabrics, organza Machine pieced and quilted, collage, thread sketching
A view of the Chesapeake Bay area. Take a good look at the crescent world above our thin atmosphere; it is not the moon, but an ideal of our own home planet, covered mostly by oceans and clouds. Is it unreachable?
Detail
Price List